• • •
I will admit that Thanksgiving Dinner isn't my favorite meal because I'm not a big meat eater but I do look forward to Sweet Potato Casserole and Green Bean Casserole every year. I don't know why I only make these two dishes for Thanksgiving but it seems like they are reserved just for that one special day. In fact the other day my husband said how good Green Bean Casserole sounded and I told him he wouldn't have too much longer to wait since Thanksgiving is right around the corner. It then dawned on me that these two casserole dishes are so easy to make and I wonder why I don't make them any other time throughout the year. Who knows...tradition I guess.
I am always in charge of bringing the vegetable casseroles to our dinner and these dishes include Baked Corn, Sweet Potatoes and Green Bean Casserole. When I was at the store the other day and saw this new Country Crock Pumpkin Spice Spread I knew I was going to have to use it for my Sweet Potatoes! Oh my goodness you are going to want to run, not walk, to the nearest store that has this spread. It is so delicious! I have used both the Honey and Pumpkin Spice on toast, pancakes, french toast, waffles etc. (You get the point-it's good on anything). It really made the Sweet Potato Casserole so much better! I love the slight spice it gave without having to add anything extra.
I urge you to go out and try some of the Country Crock Spreads...they are so good and worked really well for my baking! This Sweet Potato Casserole will not be the last thing I make with the Country Crock Spreads. I am already thinking of all the great things that I want to make even better with these yummy flavored spreads.
I hope you'll enjoy this recipe as much as we do every year! This came from a good friend of mine years ago and I've made it every Thanksgiving ever since. It's a keeper I tell ya!
1 Large Can of Sweet Potatoes (40 ounces)
⅓ Stick of butter or spread, melted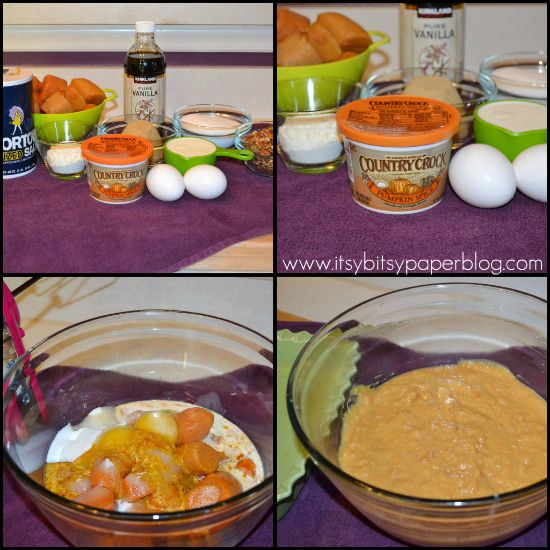 • Gather your ingredients
• For an added bit of flavor for sure you will want to use Country Crock Pumpkin Spice Spread
• Mix all ingredients together (except for the pecan topping ingredients) and mix well
• You will want to use an electric mixer to get all the chunks out of your sweet potatoes or at least most of them.
• Pour sweet potato mixture into a greased baking dish. I used the Country Crock Pumpkin Spice Spread to grease my dish and I think that added some extra flavor
• Combine all the ingredients for the crumb topping and mix well
• Your mixture for the topping will be very crumbly
• Crumble the topping over the sweet potatoes in the casserole dish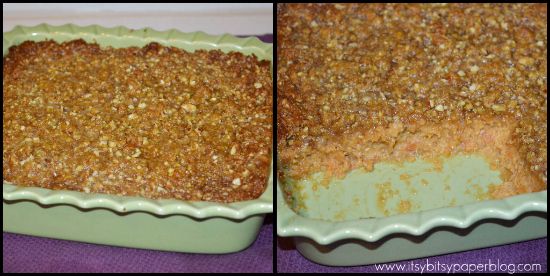 • Bake in a 350 degree oven for 35 minutes
mmm...good!
Here is a second recipe for The Best Corn Bread made with Country Crock Honey Spread. Oh my goodness is this out of the world fantabulous with the addition of the Honey Spread. Wowsers!
Print recipe HERE
You will need:
1 Box Jiffy Corn Muffin Mix
4 Tablespoons of melted Country Crock Honey Spread
8 oz. Whole Kernel Corn, drained
A dash of salt and a little bit of sugar
• Gather your ingredients
• Use Country Crock Honey Spread in your corn bread for an added sweetness
• Mix all ingredients together until well blended
• Pour into a greased baking dish. I used a pie plate for a bit of a different look but you can use any dish you might like. Bake at 350 degrees for 30 minutes
•

Once the corn bread is done baking spread Country Crock Honey Spread over the top to let it melt into the bread. So good!!!
Thank you to Good to Know & Unilever Spreads for being a sponsor. I was selected for this opportunity as a member of Clever Girls Collective. All opinions expressed here are my own.